ANSI, Chemical Process,
and Water Transfer Pumps
Buy Discount Replacement Pumps
that fit these major brands Griswold, Summit, Peerless and Goulds
Replicate Pumps in Odessa, TX, provides the highest quality replacement parts that fit all ANSI, chemical process, water transfer, and other high-end pump brands, including:
Ahlstrom
Allis Chalmers
Durco
FlowServe
Goulds
Gorman-Rupp
Griswold
I-R
Moyno
Peerless
Roper
Sulzer
Summit
Warman
Warren
Worthington
If you do not see what you need, CONTACT US! We offer complete customization services!
 Commercial and Industrial Replacement Pumps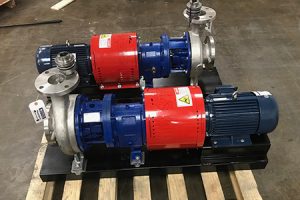 Our ANSI pumps are interchangeable with most major brands and can be easily installed by switching out the existing malfunctioning pump with your new pump from Replicate. We also carry a full line of 100% compatible ANSI parts. If you aren't sure which residential, commercial, or industrial pump to order, contact us and we will guide you through the process of selecting the perfect replacement pump or part.
Order Quality Pumps at a Fraction of the Cost
Replicate Pumps sells a wide range of replacement pumps at a fraction of the cost of the OEM part, WITHOUT sacrificing quality. We stock the following standard pumps, and also offer custom-built pumps, parts, and motors. If your pump is malfunctioning or has broken, contact us right away and we will begin preparing your order.
Order 5196 ANSI Centrifugal Chemical Process Pump Replacement
Replicate's Centrifugal Chemical Process Pump comparable to the Many Major brands is ideal for all process-fluid applications, including chemical processing and transport. With an extensive selection of size options, handling capacities, and materials to handle everything from food processing to corrosive, abrasive, and flammable liquids, this pump is one of our most requested replacement pumps. Our direct Ansi replacement pumps conform to all industry standards and exceed the requirements for most applications.