ANSI, Chemical Process,
and Water Transfer Pumps
Buy Discount Replacement Pumps
for Griswold, Summit, and Goulds
Replicate Pumps in Odessa, TX, manufactures the highest quality replacement pumps for all ANSI, chemical process, water transfer, and other high-end pump brands, including:
A-C
Ahlstrom
Allis Chalmers
Ampco
Beloit
Beloit-Jones
Bingham
Black-Clawson
Bornemann
Byrd
C'Treat
Durco
FlowServe
Flygt
Goulds
Gorman-Rupp
Griswold
I-R
Impco
KSB
Kamyr
Lightnin
Moyno
Nash
Peerless
Roper
Salzer
Summit
Sunds
Tarby
Voith
Warman
Warren
Worthington
If you do not see what you need, CONTACT US! We offer complete customization services!
Residential, Commercial, and Industrial Replacement Pumps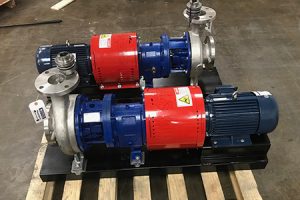 All ANSI pumps are interchangeable and can be easily installed by switching out the existing malfunctioning pump with your new pump from Replicate. We also carry a full line of 100% compatible ANSI parts. If you aren't sure which residential, commercial, or industrial pump to order, contact us and we will guide you through the process of selecting the perfect replacement pump or part.
Order Quality Pumps at a Fraction of the Cost
Replicate Pumps sells a wide range of replacement pumps at a fraction of the cost of the OEM part, WITHOUT sacrificing quality. We stock the following standard pumps, and also offer custom-built pumps, parts, and motors. If your pump is malfunctioning or has broken, contact us right away and we will begin preparing your order.
Order Griswold 811 ANSI Centrifugal Chemical Process Pump Replacement
Replicate's Centrifugal Chemical Process Pump comparable to the Griswold's 811 Series is ideal for all process-fluid applications, including chemical processing and transport. With an extensive selection of size options, handling capacities, and materials to handle everything from food processing to corrosive, abrasive, and flammable liquids, this pump is one of our most requested replacement pumps. Our direct Griswold 811 replacement pumps conform to all industry standards and exceed the requirements for most applications.
Buy Griswold Series E, F, and G End Suction Centrifugal Pump Replacement
For maximum versatility, Replicate Pumps offers water boosting replacement pumps compatible with the entire Griswold End Suction Centrifugal Pump lineup, including Series E, F, and G. Ideal for all types of water pumping, swimming pool, and transportation applications, our replacement units easily replace your broken Griswold pump without disturbing existing pump connections.
Purchase Griswold Series, E, F, G, & H Self Priming Pump Replacement
Replace your Griswold Self-Priming Series E, F, or G Pump with its equivalent replacement manufactured by Replicate Pumps. Whether you are pumping water from an abandoned mine, draining a barge, or pumping water through your residential swimming pool or sprinkler system, we have you covered! Our powerful H series replacement pump is ideal for fire protection, industrial, turf irrigation, and applications requiring more powerful performance.
We offer pumps for all types of applications, and replacements for all makes and models, including custom-built pumps. If you know which Replicate pump model you are looking for, contact us directly to place your order. If you are unsure which pump will best suit your specifications, our friendly staff is available to assist you. Call us at: (432) 258-3092.
We carry the following types of pumps and can custom build a pump to meet your specifications, as well:
Barrel Pumps
Boiler Pumps
Borehole Pumps
Centrifugal Pumps
Chemical Process Pumps
Circulating Pumps
Clean Water End Suction Pumps
Column Pumps
Concrete Pumps
Corrosive Media Pumps
Dewatering Pumps
Diaphragm Pumps
Dosing Pumps
Double Suction/Split Case Pumps
Drainage Pumps
Dredge Pumps
End Suction Pumps
Fire Engine Pumps
Fire Pumps
Fuel Pumps
Gear Pumps
Gravel Pumps
Horizontal Axial Flow Pumps
Hydraulic Pumps
Hygiene Pumps
In-Line Pumps
Industrial Water Pumps
Irrigation Pumps
Jet Pumps
Lobe Pumps
Marine Pumps
Metering Pumps
Mixing Pumps
Mud Pumps
Multi-Stage Pumps
Oil Pumps
Plunger Pumps
Pressure-Boosting Pumps
Progressing Cavity Pumps
Rod Pumps
Sand Pumps
Sea Water Pumps
Self-Priming Pumps
Sewage Pumps
Slurry Pumps
Solar Pumps
Solids Pumps
Submersible Pumps
Thermic Fluid Pumps
Tough and Abrasive Solids Pumps
Trash and Sludge Pumps
Ultra Low-Head Pumps
Vacuum Pumps
Vane Pumps
Wastewater Pumps
Wet Rotor Circulators