Order High Quality Reciprocating Pumps
Replacement Pumps &
Aftermarket Parts at a Great Price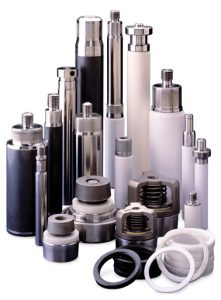 Replicate Pumps in Odessa, TX is the global leader in quality reciprocating pumps, and we offer the best aftermarket parts available anywhere. We manufacture and carry Gaso, Wheatley, FWI, Bethlehem, Gardner Denver, NOV, and National-compatible reciprocating pumps and all the parts you need for the most economical repairs at a great price you can feel good about:
Plungers
Valves
Fluid Ends
Packing
Crank Shafts
and many other parts!
If you do not see what you need, CONTACT US! We offer complete customization services!
Affordable Replacement Reciprocating Pump Parts
Reciprocating pumps are one of the most reliable, efficient, and durable types of pumps; however, they must be serviced on a regular basis. Regular maintenance and replacement of worn components on your reciprocating pump can easily mean the difference between months of service and decades of service. Unfortunately, many powerful industrial workhorses have been lost due to uncorrected damage to valves, rods, plungers, and other critical pump components. Allow Replicate Pumps to help extend the life of your pump with our extensive selection of affordable replacement pump parts. We work directly with Coorstek to bring you the best quality parts at very reasonable prices.
Buy Wheatley, Gaso, FWI, Gardner Denver, Bethlehem, NOV & National Replacement Pumps
Do you require a pump that can undergo the rigors of your intensive commercial and industrial pumping needs while delivering low flow rates of material in high head applications? Replicate Pumps offers the ideal solution every time – at the best price point! Our premium quality replacement reciprocating pumps fit right into your existing system! If you are not sure which pump to order, our team is standing by to assist you every step of the way. On-site assistance is also available on request. We offer replacements and parts for a wide range of pump manufacturers. Call Replicate Pumps to learn more at: (432) 258-3092.
Replacement Parts and Pumps that work with the following reciprocating pumps are available now!
Wheatley
Gaso
FWI
Gardner Denver
Bethlehem
NOV
National
Oil & Gas, Hydraulic Fracturing & Energy Recovery Reciprocating Pumps
Consider a Replicate Pumps reciprocating pump for all of your heavy industrial and commercial applications. Our pumps can be customized to serve the hydraulic, mechanical, and chemical pumping requirements of most industries and applications, including:
Salt Water Disposal
Energy & Steam Recovery
Hydraulic Fracturing
Sludge Transfer
Well Services
Oil & Gas
Chemical Transfer
Descaling
Hazardous Areas
Acid & Corrosives
and many others
FAST Shipping! Order Replacement Reciprocating Pumps & Parts
At Replicate Pumps, our goal is to help your business operate as productively and efficiently as possible. Contact us for assistance selecting the right pump and pump parts for your application. Upon receipt of your pump or pump parts order, we will begin preparing your in-stock items for immediate shipment anywhere in the world. All Replicate Pumps parts and pumps meet or exceed OEM standards for your peace of mind and the fierce reliability your industry requires. To learn more about what we can do for you or to request on-site support, contact Replicate Pumps. Place your order for FAST global shipping by calling Replicate Pumps directly at: (432) 258-3092.