Buy High Quality Paint Manufacturing Pumps
Paint and Varnish Mixing, Production, and Can Filling
If you are a paint or varnish manufacturer, Replicate Pumps offers high-quality pumps to assist your production process, yielding you cost-effective performance and reduced maintenance costs. From raw materials to your final product, our pumps assist with mixing, blending, and transporting your paint throughout your facility with ease.
Pumping and Dosing
Emptying/Filling
Ball Mills
Filling Paint Cans
Pigment Mixing
Robust Handling of
Abrasive Pigments
Ability to Handle
Corrosive Additives
Consistency
Accuracy
ATEX Paint Pumps for Explosive Environments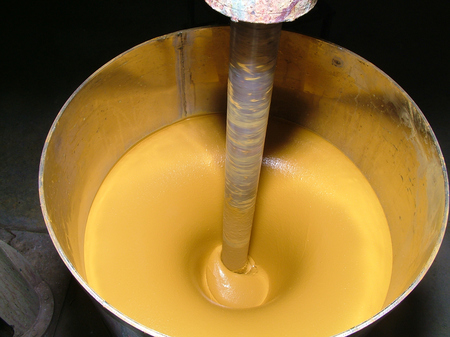 Our pumps meet the ATEX directive for equipment used in a potentially explosive environment. Rest assured that your operation will be in compliance for the safety of your facility and personnel. For high-pressure applications, our stainless steel paint pumps handle the job with ease.
Order Easy to Clean Industrial Paint Pumps
Cleaning is completed with ease with your industrial-grade Replicate Paint pump. Designed to save time and maximize the efficiency of the paint manufacturing process, our pumps can be customized to handle a variety of viscosity levels and chemical compositions. Order our pumps for quick, easy access to the few components that actually contact your product and require cleaning and maintenance.
Exceptional Pigment Delivery, Reliable Pump Operation,
and Minimal Clogs
Whether you are mixing your own pigments on-site or adding pre-mixed pigment, our powerful pumps thoroughly combine all of your components for the consistency that your paint requires. With a Replicate pump, your pigment concentration will face minimal concentration loss and exceptional delivery of pigment to the final product. Our customers are consistently pleased with the ease of installation, reduction in downtime, reliable operation, long life, and significantly minimized incidences of build-up, pigment solidification, clogs, and leaks.
Replicate Pumps sells exceptional quality paint pumps, motors, and replacement parts for our customers throughout the world. We offer the personalized customer service that you deserve. At Replicate Pumps, we offer fast shipping and solutions to your paint manufacturing needs. Contact us for more information. For prompt service, call: (432) 258-3092.