Order High Quality
Progressive Cavity Pumps
Replacement Pumps &
Aftermarket Parts at a Great Price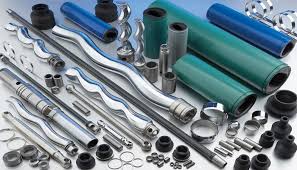 Replicate Pumps in Odessa, TX provides customers around the world the highest quality progressive cavity pumps and aftermarket replacement parts for MOYNO, NOV, Netsch, Tarby, and Liberty pumps. Whether you need replacement rotors, stators, drive end parts, or a complete pump unit, Replicate Pumps has your needs covered at a great price.
Slurry, Abrasive, Viscous & Sheer-sensitive Materials Pumps
If you require a pump that can easily handle a wide range of product viscosities and pressures while delivering a precision flow, Replicate Pumps' progressive cavity pumps are ideal. Our progressive cavity pumps handle slurries, abrasives, viscous materials, sheer-sensitive materials, two-phase and tri-phase mixtures, and other tough pumping applications with ease. Consider our progressive cavity pumps for a wide range of applications when you need a pump designed to handle all your low and high-flow viscous material pumping needs. Our superior progressive cavity pumps have all the qualities you need to help keep your operation productive and operating at maximum efficiency:
Pulsation-Free
Reversible
High Suction
Low Shear
Simple Maintenance
Steady Proportional Flow Rate
Fragile & Viscous Material Handling
Self-Priming Capabilities
If you do not see what you need, CONTACT US! We offer complete customization services!
Buy MOYNO, NOV, Netsch, Tarby, and Liberty Replacement Parts & Pumps
Replicate Pumps is at the forefront of global productivity and we are here to support you. Our cost-effective solutions have been designed to assist our customers in a multitude of ways. We offer the best pricing and selection for replacement parts and custom progressive cavity pumps that integrate with your existing equipment, saving time and money while preserving productivity.
Replicate Pumps proudly manufactures the highest quality aftermarket pumps and parts in the world. Choose from NOV, MOYNO, Netsch, Liberty, and Tarby replacement progressive cavity pumps and precision parts to meet all of your industrial and commercial specifications. Let Replicate Pumps know the brand and model of your pump and we will get to work for you. Not sure? We offer personalized assistance to help you identify your pump to help ensure you order the right replacement parts or complete pump unit. Upon receipt of your order, we will begin preparing your shipment immediately.
Replacement Parts and Pumps that work with the following progressive cavity pumps are available now!
MOYNO Pumps: Workhorse Pumps for Mine Dewatering, Oil & Gas, Water/Wastewater Chemical, Mineral Processing, Food & Beverage, Pulp & Paper, and Other Heavy-Duty Applications
NOV Pumps: Midstream Application and Rugged Processing Pumps: LACT Systems, Multiphase, Pipeline Booster, Sump, Tank Recycle Process, and Terminal Booster (Truck Offload) Pumps for Liquid Hydrocarbons, High Pressure Saltwater Injection, Spill Cleanup, Solids, Waste Oil, Truck & Railcar Offload, and Oil & Gas Operations at Wellsites and Central Processing Facilities
Netsch & NEMO Pumps: Industrial Sludge, Adhesives, Chemical, Yogurt, Petroleum, Sanitary, Water Injection, Transfer, and Septic Applications
Tarby Pumps: Quality Engineered for Water Treatment, Oil & Gas, and Food & Beverage Applications
Liberty Pumps: Handle Everything From Drilling Mud Transfer & Pumping to Sludge, Ground Water Remediation, Polymer Feed, Grouting, Heavy Abrasives in Suspension, and More
Custom Progressive Cavity Pumps – Oil & Gas, Food, and Sanitary Applications
There is a progressive cavity pump for all of your industrial and commercial needs. These versatile pumps can be customized to meet your specific pumping requirements. Large selections of progressive cavity pumps are available for immediate shipment. Some of the multitude of applications for Replicate Pumps' progressive cavity pumps includes:
Viscous Chemical Processes
Oil & Gas Mining & Processing
Sanitary & Septic Systems
Food & Drink Processing
Mining
Offloading
Water Wells
Paper Production
and so much more!
Order Aftermarket Progressive Cavity Pumps & Parts – FAST Shipping
Are you looking for a replacement or custom-built Progressive Cavity Pump or the highest quality aftermarket parts? Replicate Pumps carries our own premium line of exceptionally affordable parts that meet or exceed OEM standards. Whether you need a drive shaft, rotor, stator, conn rod kit, lip seal, bearing kit, packing set, or complete pump, Replicate Pumps has the ideal solution. We proudly serve the global market, and all in-stock pumps ship immediately. For custom order delivery in just weeks, instead of months, contact Replicate Pumps. To learn more or request on-site support, Contact Replicate Pumps. Place your order directly at: (432) 258-3092.